Every June this tag starts appearing on book blogs and BookTube. It's basically a way to backdoor brag about our reading habits so far this year. So here I am, backdoor bragging, and laying it out before June ends…

Some General Reading Stats:
Total Books Read So Far: 44
Total Left to Go in GoodReads Challenge: 8
Number of 12 Books 12 Months Challenge Completed: 2

1. Best Book You've Read So Far in 2018?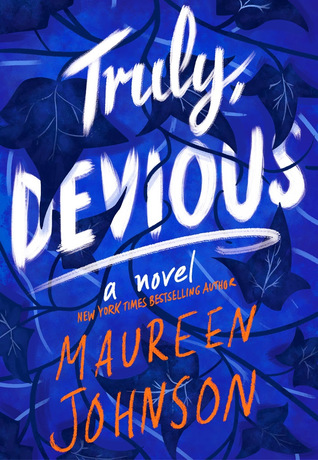 The Seven Husbands of Evelyn Hugo was such a good book. It's well crafted, engaging and has some really solid representation. But mostly I just loved reading it and wanted more of it. But… I'm not sure if it's my favorite… because Truly Devious by Maureen Johnson was so fucking fun to read! I could not put it down, and when I got to that impossibly frustrating ending, I was screaming for the sequel. And obviously, I'll Be Gone in the Dark is amazing…
2. Best Sequel You've Read So Far in 2018? 
Beneath the Sugar Sky by Seanan McGuire. I love the Wayward Children series! I love that the books aren't exactly in order and that the timelines are strange… and I love that this one played with that idea more than the others. Such a great series, cannot wait for more.

3. New Release You Haven't Read Yet, But Want To?
Neverwhere Wake, Save the Date, Fatal Throne and Price Guide to the Occult are all burning holes in my TBR, but I want to be able to really give them my time and attention.

4. Most Anticipated Release For Second Half of 2018?
Muse of Nightmares by Laini Taylor, My Plain Jane, Pulp by Robin Talley, Jessica Spotswood's newest anthology Toil & Trouble, Spinning Silver by Naomi Novik and I am sure I'm missing at least three more…
5. Biggest Disappointment?
I'm really torn between three… The Hazel Wood was such a disappointment because I fell for the relentless PR campaign… and because it started off so promisingly. The Cruel Prince was not my cup of tea at all, because even though it was touted as being SO AMAZING it ultimately felt very much like a generic fae folk novel… ooo they're pretty! Oooo they're mean… I don't care. And finally, When Katie Met Cassidy because I wanted it to be frothier, funnier, and sexier than it was. I now understand why people complained that it was too shallow. They were actually saying that it was too shallow even for a rom-com.
6. Biggest Surprise?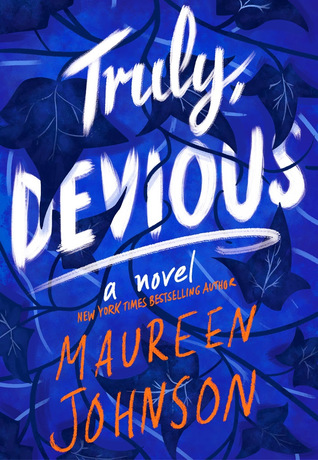 Truly Devious by Maureen Johnson. I don't like Maureen Johnson's books. She has never been my cup of tea… that is until I read Truly Devious which is an awesome YA lite thriller. I effing loved it.

7. Favorite New Author?
While I have liked a fair few of the books I've read so far this year… I don't have an author that has cracked the pantheon. I also haven't read more than one book by the same author yet this year.

8. Newest Fictional Crush?
I mean… I don't really know, I guess I could say Evelyn Hugo because she's sexy and confident and full of snark and honesty. But I'm not really sure I'm crushing on her. I could go with Harrison Lowery from Summer of Salt, but I really don't feel like I got to know him well enough. He was charming and cute though. I haven't really been falling in love with too many characters these days.

9. Newest Favourite Character?
Um… Evelyn Hugo, Arthur Seuss from What if It's Us, Vira from Summer of Salt

10. Book That Made You Cry?

What if It's Us by Becky Albertalli and Adam Silvera and Aristotle & Dante Discover the Secrets of the Universe by Benjamin Alire Saenz

11. Book That Made You Happy?
Summer of Salt… or maybe The Wedding Date. Yeah, The Wedding Date gave me all the happy feels.

12. Favorite Book To Movie Adaptation You Saw This Year?
Love, Simon was excellent, I actually really enjoyed Crooked House as well. And well Kissing Booth was absolutely ridiculous and I laughed through the whole thing… OH! How could I forget Masterpiece Theatre's Little Women adaptation! I liked it a lot… maybe didn't love it as much as the 1994 adaptation but it was solid.

13. Favorite Review You've Written This Year?
I am lazy monster who has only written one review… buuuuuuuuuuut I will say that I am partial to my mini review of People Like Us because I got to use my favorite character stand-in name: Beige

14. Most Beautiful Book You Bought So Far This Year?
I don't know how to answer this question… I have bought a few pretty looking books, but I haven't been gaga over any particular cover… maybe Summer of Salt… maybe Fatal Throne… I really don't know.

15. What Books Do You Need To Read By The End of The Year?
So many… I made a list of 12 books I have to read by the end of the year, and well… I think I have read 2. I might put one or two of them on my 24in48 TBR… but I'm not really sure.